HOTCHKISS SCHOOL BIOMASS TREATMENT FACILITY
Installed in July, 2012, the green roof on the Hotchkiss School in Lakeville Connecticut's newest Biomass Treatment Center is an exciting addition to an already beautiful campus. The Biomass Treatment Center is a LEED Gold certified building that will provide heating for the Hotchkiss School's campus buildings.
The sedum carpet green roof system was provided by ZinCo USA on top of a Sika Sarnafil waterproofing membrane. The roofing contractor, Greenwood Industries of Millbury, M.A. performed the installation of the waterproofing membrane and sub-contracted the installation of the ZinCo USA green roof system to Apex Green Roofs of Somerville, MA.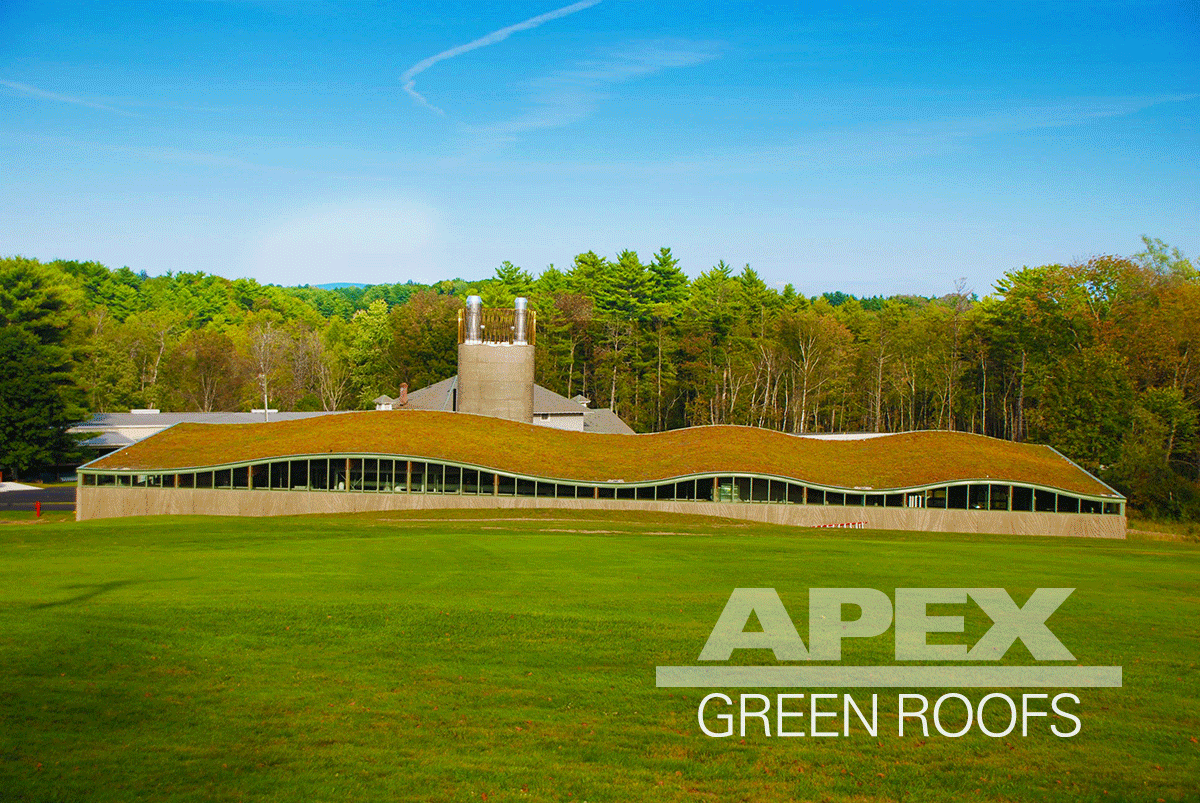 The ZinCo USA Sedum Carpet green roof system is a built-in place system that contains 5 critical components for proper functionality on the Hotchkiss Biomass Facility's serpentine, undulating roof top:
A protection mat is placed on top of the waterproofing membrane to protect the roof during installation and to retain water for the roof in times of extended drought. The Floradrain FD25-E drainage element – the proverbial "heart" of the green roof system – lies on top of the protection mat, hugging the waves of the roof (2/12 slope), ensuring proper drainage while retaining a specific amount of water for the roof's vegetation. The Filter Sheet SF separates the 2.5″ of Zincoblend extensive growing media from the three-dimensional water retention cups of the FD25-E drainage element and a pre-cultivated vegetation mat is placed on top of the growing media achieving near 100% vegetated coverage in a short amount of time. (ZinCo USA Project Submission description for Greenroofs.com)
Apex Greenroof Installation Year: 2012
Owner: Hotchkiss School
Location: Lakeville, CT, USA
Building Type: Other
Type: Extensive
System:  Custom
Size: 11,500 sq.ft.
Slope: 17%
Access: Inaccessible, Private
Architect: Centerbrook Architects
Greenroof System: ZinCo USA Sedum Carpet System
Waterproofing Manufacturer: Sika Sarnafil
Waterproofing Membrane Contractor: Greenwood Industries
CONTACT US
We can be reached by phone: 617-987-4230
Or Email: [email protected]
Learn more about the benefits of green roofs on our FAQ page.
See our Resources page for helpful links to FLL and ASTM Standards for green roofs.
View our diverse project portfolio of commercial, institutional and residential green roof installations.